Interprofessional Collaboration:
Assuring the Team is More Than the Sum of Its Parts
Team based care is a growing emphasis in health care, bringing together professionals with expectations for collaboration, but little guidance on how to do that most effectively. This presentation will review current perspectives and a review of best practices on inter-professional collaboration, using an integrative behavioral health context. We will review strategies for establishing good team practices, nurturing a collaborative culture, and identifying and addressing situations that threaten team functioning. Resources for building team competence will be shared.
Stacy Remke, LICSW, MSW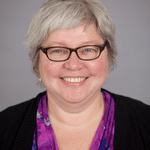 Stacy Remke, LICSW, MSW, is a clinical social worker and a teaching specialist at the University of Minnesota School of Social Work in the areas of health, aging and disabilities. For 25 years, she worked with the pain, palliative care and integrative medicine program at Children's Hospitals and Clinics of MN. She received her social work degree at the University of Minnesota and has had over 25 years' experience in pediatric care, with special emphasis in caring for children and their families who are coping with chronic, complex, and/ or life-threatening conditions, end of life care, and medical fragility. She coordinated Children's Institute for Pain and Palliative Care (CIPPC), which provides education, training, consultation and resource development for pediatric palliative care, from 2005 to 2012.