Provider Preparedness for Treatment of Co-occurring Disorders: Comparison of Social Workers and Alcohol and Drug Counselors
Colleen Fisher, PhD
Jennifer Simmelink McCleary
Peter Dimock, MSW
Julie Rohovit, PhD
Funded by Funded by the Minnesota Department of Human Services Behavioral Health
Social workers and alcohol and drug counselors are the primary providers of mental health services for people with CODs and provide services in screening, diagnostic assessment, case management, treatment team supervision, and agency administration. Providers who are capable of providing high fidelity integrated treatment must have sufficient knowledge and training in both mental health and substance use. While social workers and alcohol and drug counselors provide most services for individuals with mental and substance use disorders, there are no published studies reporting training or competency related to treating CODs among these providers.
Using a statewide survey, we examined the extent to which social workers and alcohol and drug counselors in Minnesota are prepared to provide effective treatment for individuals with CODs by assessing providers' (n=438) COD-related past training and practice experience.
Past Training
Not surprisingly, social workers reported receiving more training in mental health disorders than alcohol and drug counselors. The opposite was found for training in substance use disorders, with alcohol and drug counselors reporting more hours of training than social workers. Similar results were found for training in mental health and substance use assessment: social workers reported more training in mental health assessment while alcohol and drug counselors received more training in substance use assessment.
In terms of training specific to CODs, alcohol and drug counselors reported more hours of training in COD treatment, psychopharmacology, and relapse prevention. In contrast, social workers, reported receiving very little training on general CODs and in the treatment of CODs. These training differences may be due to the fact that alcohol and drug counselors in Minnesota who work in Rule 31 clinics (state licensed COD clinics) are required to demonstrate 8 COD-specific continuing education units (CEUs) each year for pro-gram license renewal. More recently, the state of Minnesota mandated 15 clock hours of COD training for all alcohol and drug counselors. The Minnesota Board of Behavioral Health and Therapy now also requires evidence of some academic training in CODs. Taken together, these requirements serve to ensure that alcohol and drug counselors obtain at least some ongoing COD training, while there is no such requirement in Minnesota for social workers who work with the same population.
Experience Working with Co-Occurring Disorders
Social workers reported more years of experience treat-ing clients with CODs compared with alcohol and drug counselors in this sample. However, practitioners from both groups who had less COD training were also less likely to have diagnosed or treated people with CODs in the past 12 months. Similarly, both social workers and alcohol and drug counselors with little training were most likely to report having never treated CODs during their professional careers. It is likely that a lack of COD-specific training will also hinder practitioners' ability to appropriately recognize and diagnose COD among their clients.
Comparison of Social Workers' and Alcohol and Drug Counselors' COD Training and Practice Experience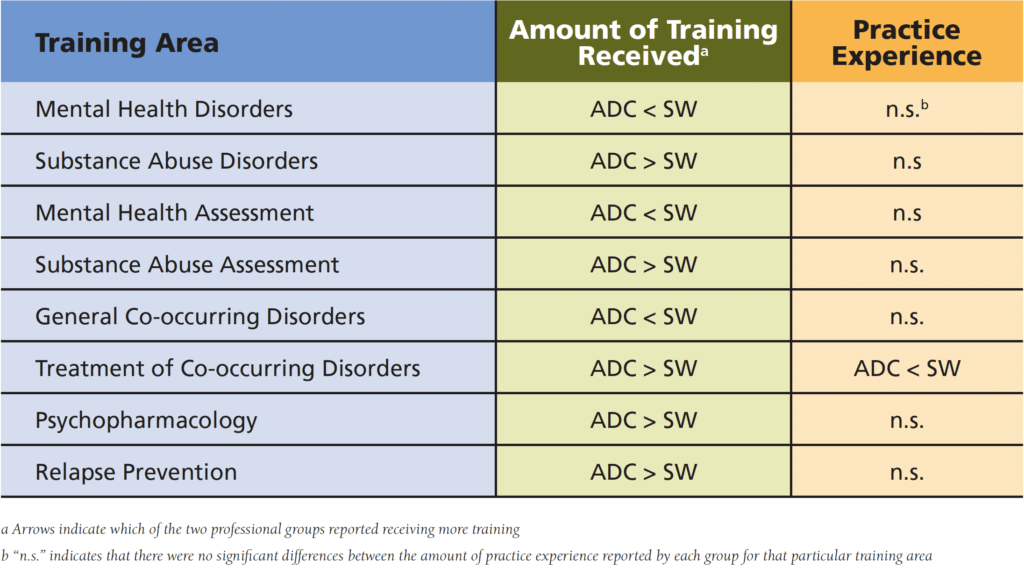 Conclusions
From both a policy and practice perspective, there is a need for competent, well-trained professionals who can provide integrated treatment for CODs in a range of practice settings. In addition, the trend toward requiring certification for COD specialists currently seen in some states will likely continue. Social work and alcohol and drug counselor education programs, state licensing boards, and behavioral health agencies must encourage and support the training necessary to ensure that practitioners are prepared to provide competent and effective COD treatment. For example, State Boards of Social Work who oversee licensure of social workers could begin including a specified number of training hours in substance use and CODs similar to the requirements for alcohol and drug counselors. At the state policy level, programs that offer integrated COD treatment could be required to meet specific program standards for the training of staff in CODs. Educational institutions must also respond to this need by providing comprehensive training—from training infused in the core curricula of social work and alcohol and drug counselor programs to targeted CEU initiatives for practitioners in the field—that will serve new and experienced providers within this emerging practice area. Institutes focused on research and practice will be positioned to meet this growing need through evidence-based workforce training and development.
Findings from this survey suggest that tailored training and increased exposure to cross-discipline knowledge and communication is needed for social workers and alcohol and drug counselors to provide competent COD treatment. A new partnership between the Center for Practice Transformation and the Department of Human Services is leading the way to address this issue. Several Center initiatives are currently underway which provide workforce training, consultation, and evaluation to mental health and substance use professionals and agencies With the recent development of the IDDT rule (MN rule 9533), this is a ideal time to address workforce needs in COD training. Findings from the Minnesota Workforce Survey establish the increased need for training in CODs for both social workers and alcohol and drug counselors.
Publication Reference
Social Work Education: The International Journal
Volume 33, 2014 – Issue 5
Back to Research
Contact
Trainings Tailored to Your Team's Needs
Talk with us about how we can build an evidence-based practice training plan for your team.